Listen
To What Others Say About Fur Ever Friends…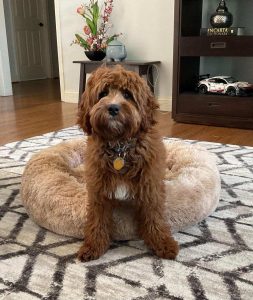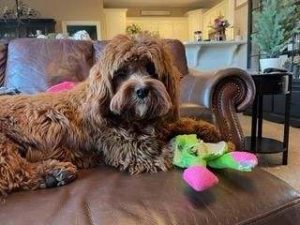 Hello! It's been one year today since we brought home our sweet Finley and her half brother Cooper! (Formerly Anne and Jax)
We just love our Finley! She is seriously the sweetest dog ever. We live in a corner lot and Finley loves CCB it when people and dogs walk by so she can greet them, tail wagging, and C play thru the fence. We have met neighbors we've never known before because of her sweet personality. We are all just in love with her!!
She LOVES to play outside and to chew on bones and have her belly scratched!
Her brother Cooper is doing great too! My in-laws just love him fiercely and we try to get the Nina two together several times a month to play. They play hard and crazy! I'll try to find a couple pics of him too.
Thank you!! Blessings!
Moresettes from NE
(Cavapoo)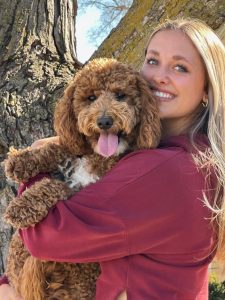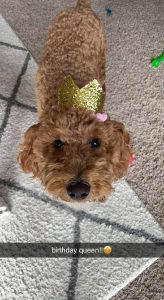 Huxley turned one this month and I just had to share these photos with you!! Thank you for breeding the sweetest and healthiest dogs!! She has been the biggest blessing! Marquez from NE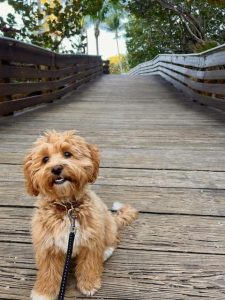 Wanted to update you on Millie! (Emily.) she is teething now and has her adult teeth coming in now! She has been absolutely the BEST dog we could have ever asked for! Thank you! She is super precious, healthy and fun! All her vet checks have been good as she grows and we have super spoiled her!!!! She is the best dog! Super playful, has a big heart and loved everyone even big dogs who don't play well!
Well today is Sam's 4th! He is having a very relaxing Morning!
Actually this is every Day. Thanks for being great Breeders. My only
complaint is that he is to Smart for his own Britches!! It has
Actually turned into his house and I'm just living with him. You know
they say to the World you are just one person,but to your dog,you are
the world. Hope you don't mind these yearly updates. Hope you and your
family have a great Thanksgiving and a very Merry Christmas!
Misti and Jason, I cannot tell you what a joy Trixie (Taffy) has been. She has immediately settled right in and we are in love with this girl. She is so smart, lovable and playful -She was worth every single mile we drove to get her! Thank you so much for holding on to her until we got there. She slept most of the way home and slept my bed with me all snuggle against me. You guys do a wonderful job with these dogs and Frank and I were so glad to meet you both. THANK YOU FROM THE BOTTOM OF OUR HEARTS! ♥️
Duncan's from Illinois
Hello! I bought Trixie from you in August, I'm from Rapid city. I just wanted to let you know how fulfilling she is. She is so cuddly, adorable and she literally is the light of my life. Thank you for having my best friend.
Joyfully,
Heavlin's
From South Dakota
Just thought I'd give you an update on Remi! She is settling it fantastically! She is doing wonderfully on potty training (only 2 accidents!) And has been eating and drinking well! She is sleeping through the night without having to be let out, and does well being in our kitchen/dining room while we are at work (yay for not having to be in a kennel all day!) She also did fantastic at her first hair cut. She is a very well mannered pup so far and we all love her!
Kollis' from Iowa
Hi! This Sara who got Tenille now Haley last week! Wanted to let u know I just luv her!!! She's spoiled! I'm sooooo glad I got her!!!!! Thanku!!!
Sara from Iowa
Someone is very loved here in Rapid City!
Heavlin from South Dakota
Just wanted to thank you again! Kash is doing AMAZING! Sleeps all night in his crate, doing awesome in potty training and is such a sweet boy! Vet said he looks absolutely perfect! We are all in love with him! Thank you again for such an awesome little guy/experience. We will be referring you guys to others for sure and who knows, maybe down the road Kash may need a buddy 🙂.
Take Care!
Klemann's from South Dakota
Jason & Misti,
I just wanted to send you a quick update on our sweet puppy, Bella Rae! She is seriously THE MOST AMAZING puppy ever! She is sweet, playful, smart, and a ton of fun to have around! Thank you so much for providing such an amazing addition to our family! We love her so very much! I attached a couple of pics of Bella. She had a absolute blast taking prom pictures! 😉
VanDenBerg's from Iowa
Leo wanted to send his 1st birthday pic to you guys! We've had him for about 10 months now. He's doing great and we love him! Such a good dog. He's been a great addition to our family.
Thank you!!
Gilbert family from South Dakota
This is Skye, formerly Sahara. She just came back from a long walk. She is a perfect pet. She's house and crate trained, sleeps all night and loves my grandchildren. You've done a very good job with her. When we picked her up at the airport we knew right away that Skye had a fabulous beginning! Thank you!
Kozak's from Florida
Our vet said to tell you she is very pleased with both doggies and impressed with you as a breeder. She said by their disposition and overall health, she can tell that you play with the pups, give them attention, and keep them healthy. We agree with her and want to say that you should be proud of yourself and your whole team that's involved in breeding these special little angels!
Gacioch from Missouri
Hi Misti! Just wanted to let you know that Milo is doing great. He is the best dog ever! Very spoiled. So sweet, funny and loves to cuddle. Love him!
Muth's from South Dakota
Contacting Furever Friends was the best decision we have ever made. We were able to select her from pictures when she was just a few weeks old. From that time on, she was called by her name and we received photo updates of her. She was almost 9 weeks old when we picked her up. She was so well socialized that the transition to a new home was so smooth. She is now two years old and is cuddly, playful and an absolute delight.
We have been so impressed with Furever Friends that we are anxiously awaiting our newest Malshi in a few weeks. Jason and Misti are wonderful to work with.
Hess from Iowa
We had a great first weekend with Oakley! I'm convinced that every puppy should have a boy, and every boy should have a puppy! This brings back great memories from my childhood.
Oakley has been an instant fit with the family and we couldn't be more pleased with how she has adjusted. She and Greyson even kept each other occupied on a quick trip to the store!
Swanson's from Iowa
I just wanted to share with you some photos and tell you how grateful we are for him! He has provided our family tons of smiles and cuddles. He is so gentle and loving with our two children and keeps our 13 year old lab youthful, they are the best of friends. Copper has been such a wonderful addition to our home! He is so loved and we are so thankful. ♥️
The Hernandez Family
We are all so quickly in love with Bella. My grandkids have been shy/afraid of dogs but are very comfortable with her. So calm and easy to train. We didn't get her until 14 weeks but she was obviously well cared for. Pics are fun day 2 with us!
Ten Napels from Iowa
I wanted to let you know that Maya (now named Winnie) is ABSOLUTELY phenomenal — she brings such joy to our lives! Thank you for everything!! The big and super happy, Winnie!
Sorkin's from Houston, TX
Good morning,
I purchased Daisy (havapoo). I have renamed her Luciana "Luci."She is so sweet and I love her so much! I just wanted to thank you for taking seemingly such good care of little Luci. She is already so loved & adjusting well to her new home! I'm including some photos of her. 💕 Thank you again for taking good care of her. 💜
Dixon's from Florida
Hi Misti, Just sending a couple quick pics of Nora and review for your site! She's a little over 5 months now and just the sweetest girl! So smart and the best personality. We are obsessed with her and everyone who meets her falls in love. Thank you for being so wonderful throughout the process and for the perfect addition to our family!
Alexander's from South Dakota
I am writing you today to thank you for my dog.  His name is Denver and he is turning 3 tomorrow.  He was a son to Marley and Shelby.  I just wanted you to know it has been an amazing 2 years and 10 months.  I posted when he turned one and you have that on your website.  So proud.
However, things have changed.  Dock diving is no longer his thing…..won't jump. Lol.  Tried agility…….nope……..not his thing either.
We have been training for most of the 3 years.  He has received the top level of the AKC Canine Good Citizen (CGCU) and AKC Trick Dog intermediate.  Then he just passed his Therapy Dog International (TDI) in June of this year.  We go to hospitals, assisted living facilities, hospice facilities and emergency rooms.  He is a natural at giving pet therapy to all.
He also plays hard.  Daycare twice a week and we go off leash in fields at least 4 times a week.  I walk a mile and he runs about 5.
His favorite thing is still playing in snow!!!!
Carvers From South Dakota
I bought Lennox (Toto on your site -Maltipoo) from you back in April of 2020. I just wanted to share some photos of him! He is an amazing pup, super intelligent, and we love everything about him! Reynolds from Georgia
Aaden (now Abe) was born 2/14/2018. Just an update he is SO sweet and amazing. He has been a joy since the day that I got him. He is doing really great and is very well behaved. He is super friendly to everyone. Abe was my first pet and he has been nothing but loving. I have included some pics from when he was pup to now 😊
Thanks!
Shena
Indianapolis, IN
Just wanted to share our little girl with you now that she's somewhat grown up ! (9 months ) Penny . She's absolutely beautiful, smart , sweet & the perfect addition to our family !
Just Family from South Dakota
Just saying hello from Leo. He is doing well and we love him! Thank you!
Gilbert's from South Dakota
We just adore our sweet little Parker. He is so Busy in the morning and mellow at night. He fits into our schedule just perfectly and I'm so thankful for doggie doors.
I want you to know that he is a better baby than my two boys I raised and I haven't missed much sleep. He goes to bed when I go to bed and he wakes up when I wake up. All in all he's the best dog ever.
Thank you for doing such a great job of breeding him. I think he needs a brother or sister.
Parsons From CA
Hello Jason and Misti,
I hope you're both doing well. I wanted to reach out to you since our Neo aka Scoobie to you. We cannot thank you enough for he is precious, sweet, loving, adorable little guy. We have six children, and he is so calm and obedient already. I keep saying to myself did our breeders train this dog. I want to just thank you for blessing our lives. He has a great home and is truly loved by each one of us.
Our Vet calls him "The Harvard Puppy", he shakes a bell when he wants to go outside already. My daughter treats him like a little baby, he goes to sleep at 9pm in his crate with the sound machine, he sleeps all night like a baby, wakes up no accidents, straight outside.. He's is rewarded and just a sweet love bug..
Thank you,
Kayal's from New Jersey
Meet Ollie, Mrs. Koerselman's two-year-old Poochon, who will be joining us at Rock Valley Elementary at the start of the 21-22 school year. Ollie & Mrs. Koerselman recently completed testing for pet therapy certification, after five weeks of daily training in Sioux Falls, SD. With all the changes and unknowns that have come about over the past year and a half, we were looking for a creative way to address the varying academic and mental health needs of our students. Research has shown that therapy dogs support psychological and academic growth, while increasing social skills and self-esteem in children and adolescents. We truly believe Ollie can make a positive impact on all of our students, whether that be greeting them in the halls, visiting classrooms, attending small groups, or even while meeting individually with Mrs. Koerselman. More information regarding Ollie and his role at school will be provided during registration in August!
Koerselman's from Iowa
Hello Misti..
Puppy is doing wonderful! He has adjusted well, and our world now revolves around him!! 💞😊🐾
He did see the Vet last Friday and everything is good. I have chosen to name him JOEY!
Thanks and be well.
Maureen from IN
Macy (Cavachon) is NINE now!  Wow how time flies.  She's the best dog ever…super friendly to everyone, great with our small kids and just a joy to have in our lives.  She has been very healthy her whole life and still is doing great at age nine.  She ended up being 30lbs!  But her goal weight is closer to 25lbs ;).
We can't thank you enough for breeding such a great dog!  I've attached a photo of what she looks like now.
The Ruble Family, Urbandale, Iowa
Just letting you know I love my son, Levi (Midas) and wanted to share some pics with you!! Thank you! Love him so much!! He is THE BEST!
Rochelle from Washington
Just some feedback from the vet. Calypso went in and Vet was very impressed. She said calypso is calm and cool.  Stated to my wife she can tell the breeder was very on top of things and provided a nice environment for the dog. So when you get that litter with Calypsos dad let us know.  here is a pic of my daughters and Calypso.
Costeines from Connecticut
Edie (Minnie) is doing fantastic! She is here by my lap licking my fingers as I try to type this 🙂 The flight was smooth and everyone at American cargo was great. She is fitting right in and already in love with following around my other dog Spike (and he's being very patient and surprisingly tolerant). Couldn't be more thrilled, she's a sweetheart. Here are a couple of pics. Such a sweet, smart girl! Already using her potty pad and such a love bug. Can't thank you guys enough. Working with you both was seamless and your communication was prompt and you provided excellent breed information.
She had her vet visit yesterday and passed with flying colors! The clinic and I are both impressed by how much handling she clearly got and how well-formed she is for her breed.
Christine from Portland, OR
Hello!
We wanted to let you know that Haley (now named Nala) arrived safe and sound yesterday to New York! She is such a love. She took to us right away, loves all the belly rubs, and loves playing with all her new toys. She clearly had lots of love with you over in Iowa..it shows in her sweet personality!
Thank you so much for bringing lots of joy to us! Here are a couple of pictures from her first day with us.
Keifer's from New York
It's been 2.5 years since we got little Mochi from you. We wanted to send an update. We've moved to Virginia since we got her and she is the most popular dog in our building. Everyone comments on how cute and well-behaved she is. She is super friendly and loves to explore. Below is the first photo you sent us of her. Feel free to check out her Instagram to see how she is doing now: https://www.instagram.com/mochi.amore/
Jason and Misti —
I just wanted to send you a message to let you know how happy we are with Fred and Ginger. We got them just before COVID hit — who knew what a crazy year it would be! They helped bring joy to our family and our neighbors during a very grim period. Everyone in our little neighborhood has gotten to know Fred and Ginger.
Thank you for sending us these precious pups at just the right time! We have since referred all of our friends to you and will continue to do so!
Nancy and Mike from California
We adopted Krystal in October from Fur Ever Friends.  She is a Havapoo and was easy to house train.  She is full of energy and extremely friendly.  She likes to meet new people and loves everyone!  She likes to play, with fetching being her favorite.  Misti was always there for us when we had many questions.  Krystal fits into our family perfect, she seems like such a smart little girl! Great decision🥰. Craig and Sara Smith. Iowa
Here is Oakley! We all love him so much he is such a good boy! He loves walks, he is so playful, he knows so many tricks already and he is a joy to the family he is so lovely! He is such a good boy and we love him so much!❤️💕 
Sonja from Michigan 
An update on little Murphy!  He is so absolutely perfect! So smart- essentially already potty trained and knows a bunch of commands! Was sleeping through the night within a week! Very social and sweet to others, always excited to give a nice greeting to anyone! Thank you for the sweetest little man ever! ❤️❤️
Meredith from Minneapolis 
Miss Piper and our Christmas photos! Buffalo Center, IA
Havapoo! from Buffalo Center, IA
Penny & Copper were instant best friends. We love our pups! They are an incredible blessing to us & Penny loves her big brother & he adores her. Thank you! 
Sincerely, 
The Just's from South Dakota 
"Meet miss Ruby! We welcomed this sweet Cavapoo to our little family in September 2020 and couldn't be more obsessed with her. She's six months old and about 15 lbs of straight cuteness. She's LOVES to play fetch and enjoys belly rubs 24/7. She thinks snow is the coolest thing and is pretty photogenic when it comes to engagement photos with her parents. 😉
Thank you to Misti for being so helpful throughout the entire process and always providing me updates when I was getting impatient and just wanting to come meet our first fur baby! We HIGHLY recommend Furever Friends to anyone looking to raise a fur baby of their own. 🐶🐾❤️" 
The Zebro's From Minnesota 
We welcomed Mabel to our family in September 2020 and are so thankful we found her! She is sweet, smart, playful and cuddly. She figured out potty training day one (feel very fortunate for this). The entire experience of getting her from Furever Friends was easy and stress free. 
The Day's From Iowa
Finn got to have a cake smash for his bday — finn is one in eight days!!this dog is the love of my life((: i cannot thank you enough(:
Libby From South Dakota
We wanted to take a moment to say thank you for our beautiful FUREVER friend, who arrived to us with the name of HOOCH.  He was born on 8/6/20 and is now 5mths old.  His name is now GIO and he has settled in nicely.   We thought we would share a few pictures of how beautifully he has grown.  We can't wait to see his final size.  GIO is very happy and healthy and we are super excited and fell in love at first sight.  Thanks for providing us a wonderful puppy to love. 
Michelle from Florida
Hello! Our Poppy girl turned one on the 8th and I just wanted to send a little thank you your way! She is seriously the best dog, we love her endlessly! She does everything with us and I can't imagine our life without her!
~The Williams Family
From Iowa
He has so much personality, it's amazing!  He is through the pee and poop stage at our house, gates are slowly coming down.  His latest is he grabs stuff off my wife's bedside table and brings it downstairs to chew on.  Other than that he has been a perfect dog.  My wife's father passed away a few days before thanksgiving and we are convinced Bear understood that Mary was hurting and has since latched on to her.  He has become a major part of our family!
Thank you for our Bear!
The Trexlers from California 
Alex and Aaron  here! Blitz (Bongo) is coming up on his 11 month birthday so we thought we'd send you a couple photos!! He's beautiful and everything we could've asked for and more!! 🙂
We adopted a Goldendoodle one year ago. She is the best little girl! We all love her and we are so thankful for her. Thanks so much,
Karen
From Iowa
Hello there. I hope all is well. I wanted to update you on our Poochon, Ollie. He's now 12 pounds and still growing. He's still the most handsome guy we've ever seen, and he has made SO many friends at puppy day camp.
By far the best decision I have ever made… buying my little coco from Misti and Jason! The 4 weeks I had to wait to meet her were the longest 4 weeks of my life but Misti sent pictures and was always responsive no matter how annoying I was with questions and checking ins! Lol Jason met me in Sioux Falls (2.5 hours shorter of a drive for me) as he was already dropping puppies off in Sioux Falls to be flown to other homes! This made my life as well as cocos transition so much easier! He was very nice and welcoming and again, answered all my silly questions! Everything was perfect from start to finish with col and the transition! We had col for a little over 24 hours and she is already fitting in great with her sister and new mommy! We lover here to the moon and back! Thanks so much from the bottom of our hearts to everyone at Furever Friends… We will be back for another sibling! — Danielle from Minnesota
Look at this handsome boy after his 1st official grooming! ❤️ Comet is doing very well. Does not like crate but did let me sleep all night last night. House breaking is going well too. A few accidents but I expected more!  He loves being around other dogs and meeting people. Loves to cuddle but not for too long. Lol. So very socialized! I refer everyone to you!!  Will keep you in mind to update as he grows.
Thank you so much!!! We love our Baxter so much!!! 🐾🧡🥰 Suzy
Many thanks for enabling us to get such a wonderful little furrball in our lives.
–Rosanne from Michigan
We bought our poochon Maggie from Misti and cannot recommend her enough. After putting a deposit down, we were able to pick out our puppy in person when she was only four weeks old! After a very long two months, Misti mis us and dropped off Maggie along with papers and all records. The process was very easy and, of course, we are very happy with Maggie the Poochon!
— Randall From South Dakota
Dear Jason and Misti,
This is Mindy the proud new owner of Tanner ( now Romeo) I just want to tell you my 6 year old daughter and I are absolutely in love! He is exactly what we were looking for looks and personality. He is such a cool little guy and even slept through the entire night and now follows us wherever we go. I just wanted to let you know he is in good hands and we will provide the most loving home for him. Thank you for sending is such a little gem 💕💕💕 – Mindy From California

Ruairi (Peanut) at 8months old.
We are so happy with him and he gets a lot of attention wherever we go. He's about 80 lbs now. Do you get to hear from any of the others in the same litter? Bless your hearts for letting us have him
Kathy and Dave
— From Washington
We have 3 handsome, smart, well behaved doodles from Fur Ever Friends. Buttercup aka Butter is a 4-year old cream Golden Doodle. He is the sweetest, most well behaved, lovable giant you will ever meet. He loves to hold hands and be petted. Copper is a 1-year old, brown Golden Doodle. He is also a sweet guy, very agile, friendly, funny and is our house clown. He is always making someone smile or laugh. Biggs, 3 month old, brown, Havapoo. He is the sweetest, most well behaved puppy. Him and Butter's personalities are a lot alike. He is very smart and training has been a breeze. All 3 of our doodles are healthy, loveable and well mannered. Misti and Jason at Fur Ever Friends have been great to work with and we are more than satisfied with our boys. They have all been well behaved and lovable since the day we brought each of them home. We would not go to any other breeder because our dogs are just perfect!
Jeff & Jody Miles
So ridiculously patient! 💕 this pup! Drool and all!
Danni
Sam is growing like a weed, and I thought you would like to see his progress! He never leaves my side. I love him so much and I thank you for him. After losing Riley I wanted to die! I swear this guy has Riley in him. Well again thank you so much for doing a great job with Sam !
Keith 
We can't even begin to express how over the moon we are to have added, Wrigley into our lives.
Purchasing a puppy online is nerve-wrecking, as you don't really know what you're going to get.
Well – we can honestly say that we have never been happier; our family is finally complete.
Misty was amazing, every step of the process.  She responded to every text, question and concern.  When Wrigley flew all the way to NYC to reach her new home, she flew with a wonderful woman named, Jaime, who ensured our puppy was happy, content and healthy the entire flight.
We never imagined this process to be as pleasant as it has been;  Wrigley has already made such a huge impact on our hearts, in such a short period of time.
Thank you so much to Misty and her crew for taking such great care of us.
–Jessica from New York
Hazel is one today! We were so excited when you contacted us a year ago today to let us know about her early arrival! We fall more and more in love with her with each passing day… She is an incredible dog and we are lucky to have her!
Gretchen
Stanley from nyc says hi! He was Scoobie formally and born 3/24. Such a doll-thx again for such a smart and cute pup!!! Thinking of you and hope all is well
Denver turned 1 year old today.  He is a great dog but still keeps his independent attitude which makes me laugh.  Dock diving is still his favorite thing to do.  Going to be a long winter hahaha.
Dianne from South Dakota
This is Porter (brewery pup). He loves to play, sleep, and to be trained. He is so smart and loves attention. He comes with us wherever we go that he is allowed. We couldn't have a better fur baby.🐶💙💚Aussiedoodle
Jennifer
Hi! I am a cute little Havapoo and I am very cuddly. I love meeting new people and playing with my toys!
Follow me on Intstagram cooper_the_cute_and_cuddly_
This handsome boy is 1 year old today!! Picked him up a year ago from FurEver Friends we love him so so much he's brings joy to our family every day! Thank you Fur Ever Friends for bringing this gift to our family!
Brian
We got our poochon, Ollie, in August of 2019. Misti and Jason were wonderful to work with from the get go!
Being this was our first dog, they answered questions to ease our uncertainties and walked us through a good routine for him, as well as gave us recommendations for potty training.
Ollie is now just shy of 6 months old and has adapted to his new home life! He is a cuddler and has completed our family! We wouldn't hesitate to work with The Fykstra's again and are grateful for their passion to raise quality dogs.
Emily from Iowa
We got our doodle from them in 2017 and it was smooth sailing! We love our doodle so much and it was the best decision ever! We get complemented all the time on his color and curly coat ❤️ will definitely be getting our next pup from here!
Brenners from South Dakota
Just wanted to give you and update on our Mickey!! He's adjusted so well to our family of humans and pets!! He's more than perfect!! The vet thought so as wel when I took him in for his puppy check. Thanks for preparing your puppies for their transition to a new family!! I wanted you to know how much we love our little guy!! He's the absolute sweetest thing ever and has fit in so perfectly with our Family. I'm actually in the process of getting him certified to become a Therapy Dog. Have two more classes to take and then testing.
Tammy from Nebraska